Mr. Coffee ECMP1000 Café Barista
Premium Espresso/Cappuccino System
Mr. Coffee, part of Novell Brands, has been around since 1972 and manufactures a variety of coffee makers and accessories. Their aim is "bringing a rich coffee experience into your home."  Mr. Coffee are widely regarded for their drip coffee machines, however, they have made great inroads moving upmarket with their product offerings, and subsequent results. They are most certainly keeping up with the industry and following a trend,  where foodies in the USA have developed a taste for Espresso Machine coffee extraction, that was the norm in Europe for over a century.
There has been a sharp increase in the number of caffeine connoisseurs who have become tired of the same old, burned Starbucks brew. Have you ever wondered if you can brew a better cup than an overpriced Starbucks? Well, you and many others are not alone in your quest, and the honest answer to that question is – of course you can! And, it might not be as hard as you would imagine!
There is nothing more special than waking up in the morning and being able to make yourself a delicious cup of cappuccino, just the way you like it, with the precise flavor of beans that you love! If you not doing that right now then believe us when we say that you're missing out!  Let's not forget your guests! You will be certain to impress any visitors who sample a delightful drink from this superb system.
If you are a lover of things that look good, or just someone who likes to have the best of everything around the house, then the Mr. Coffee System should be at top of your list of purchases.  Not only does it come from a highly regarded manufacturer, it also comes at an exceptionally affordable price. So, it can be a treat for yourself or a gift for a loved one; either way, you most definitely need a Mr. Coffee in your life!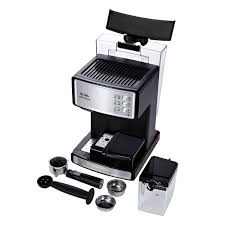 This particular model, the ECMP1000 Premium Espresso / Cappuccino System, is at the top of Mr. Coffee's Espresso product line. It is the piece de resistance! Let's look at what the fuss is all about, and just exactly what you get included in this cleverly crafted, good looking piece of kit!
1-Touch Control Panel – no need to spend ages trying to choose the program for you, simply press the option you want and away you go! It's both easy and quick!
Integrated Milk Container – this nifty container is removable and allows you to store any unused milk in the fridge, saving on waste.
Removable drip tray – this serves two purposes, firstly it allows the machine to be easily cleaned and secondly it allows you to use a taller cup when making a drink.
Automatic Milk Frother – this is a very handy feature which saves you from stopping to check on the milk to see if it is quite ready.
Water Reservoir – holds 55oz water, this is enough water to allow you to extract a dozen or more espressos!
15 Bars Pressure – this pressure allows you to get perfectly frothed milk for cappuccinos and lattes.
Single/Double Shot – you can select from a single or double shot of coffee in your drink, allowing you to customize the strength of your coffee.
For use with coffee grounds – you can buy pre-ground coffee in packs or opt to buy beans and grind them before use in this machine.
Recipe Book – included with a purchase of this system is a useful recipe book that shows you how to make ten different drinks.
That is a breakdown of the features this machine offers, but now let's look at honest reviews from people who've used this machine and can provide more information than the brand provides in order to sell this model.
Pros
Quick to make drinks
Easy set-up
Can store milk in fridge while still in container
Can adjust strength of drink with single/double shot button
Can use all types of milk with this system
Cons
Pre-set milk measurements are set to Small and Large, so it is hard to customize.
Can't use taller cups, unless you remove the drip tray altogether
Not enough control due to the one-button operation
FAQ's About This System
Can this system be used to make Iced Coffees?
No, it is not recommended by the manufacturer to make iced drinks with this machine
Can you steam milk without using the coffee/espresso feature?
Yes, the milk frother/steamer can be used as a standalone feature, perfect for hot chocolate, etc.
Do I have to purchase filters for this system?
No, this system, like most, has a permanent, built-in filter.
Does this machine have a timer option?
No, this feature is not available with this system.
Does this machine come with a warranty?
This comes with a one-year Limited Warranty, provided by the manufacturer.
Now let's look at where this machine fit in with others within the same price range that comes with similar features.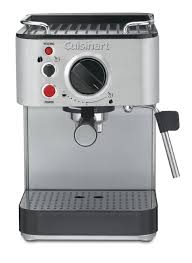 CONAIR CUISINART EM-100
Cuisinart is a very well-established business in the arena of upscale kitchen equipment. However, they are not one of the foremost brands in the world of coffee generally and Espresso Machines specifically. This model is perhaps the least attractive out of the three machines that we are reviewing.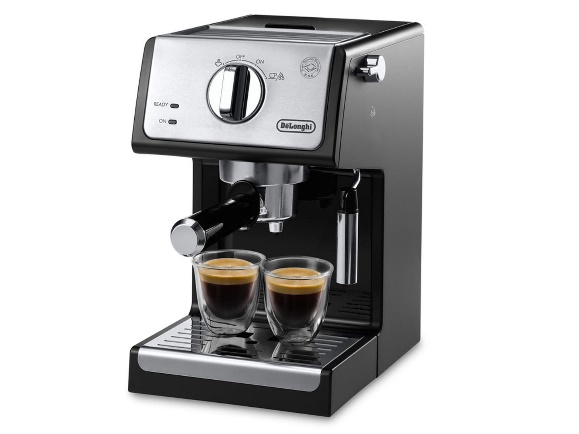 DE'LONGHI ECP3420
De'Longhi is a well-established brand in mid-range Espresso Machines, and this unit, like most of their products, does look good. However, in the US this is a specialty import from a foreign manufacturer, unlike Mr. Coffee, whose product availability, access to parts and to service is likely to be much easier.
| | | | |
| --- | --- | --- | --- |
| | Mr. Coffee ECMP1000 | Conair Cuisinart EM-100 | De'Longhi ECP3420 |
| PRICE | $132 | $160 | $150 |
| ADJUSTABLE COFFEE STRENGTH | YES | YES | YES |
| PRESSURE | 15 Bar | 15 Bar | 15 Bar |
| WATER TANK SIZE | 55OZ | 53OZ | 37OZ |
| MILK CONTAINER | YES | NO | NO |
| CAN TAKE PODS | NO | YES | NO |
| ADJUSTABLE DRIP TRAY | YES | YES | YES |
These three models have most of the main features going for each of them. Each has 15 bar pressure; each can be adjusted for coffee strength, and each has an adjustable drip tray (handy for taller cup sizes). Each one of these machines, however, do have slight differences, which may or may not be important to you when buying a coffee machine.
If you love the idea of being versatile with coffee and would like the option to use pods occasionally, then the Conair Cuisinart EM-100 will allow you to do this, a unique feature between these three models.
The Mr. Coffee ECMP1000 is the only model that has a milk reservoir included within the machine; some may find this a feature they simply must have.
Benefits of an Espresso Machine
If you love your coffee and want to make drinks other than standard filter coffee, then an espresso machine is sure to be the machine you are looking for. With an espresso machine, you can make drinks similar to your local coffee shop, with a bit of practice you can be a self-taught barista! You have the option to make cappuccinos, lattes, espressos as standard drinks but can improve on these with flavored syrups, etc.
Most people who are major coffee lovers and have the spare cash to invest in a top-notch coffee machine will almost always try to opt for a bean-to-cup machine; these tend to be of the same quality as you would find at major coffee chains but they come with a price tag. The next best option, and more affordable, is an espresso machine. You get the same features as a bean-to-cup machine with only one slight difference; you need to have pre-ground coffee to place into the machine.
Important Things to Look for When Buying an Espresso Machine
There are several things to look for when choosing an espresso machine for your use; here we discuss the top three.
Milk Frother: To make a larger range of drinks you really need a decent milk frother within the machine. This is vital to make cappuccino's and latte's, two of the most common drinks to make with this type of machine. You need to ensure that the pressure within the machine is enough to build a decent amount of steam, to froth the milk sufficiently. This comes down to the pressure – generally the higher, the better!
Choice of Coffee Strength: Most coffee lovers would definitely prefer to alter the strength of coffee used in their drinks, it is nice to have the choice of a mild latte or a double-shot espresso, depending on your mood. Espresso machines usually have either a button to allow you to choose the strength, or different size portafilter baskets (the piece that you place your coffee grounds into while brewing a coffee). If there's no button for an extra shot, or the portafilter basket comes in one size only then be aware that your coffee will come out in one strength only.
Ease of Cleaning: This is a boring feature, but one that's important for anyone who is looking to use their machine regularly. Espresso machines can have many parts, and you do not want to worry about your machine smelling like off milk due to it being too hard to clean. Some machines offer a pre-set cleaning cycle; others require a little more work; dismantling the parts and individually cleaning each one. Choose a system that fits in with the time and effort you are prepared to put in to keep your machine spotless.
Should I Buy the Mr. Coffee ECMP1000?
Overall, this machine is a good buy, it is affordable for this type of machine and offers a lot of features for your money. It will be a great addition to any kitchen, and the reviews tend to be on the favorable side. The one year warranty comes in handy, and if anything goes wrong beyond that period, then it seems to be very easy to find replacement parts and make the machine new again.
The cost of this also makes it an ideal item to give as a gift, albeit a slightly extravagant one, depending on whom you are purchasing it for. I suspect the recipient would really have no clue that this machine cost as little as it did, however, as it definitely offers great value and features you'd perhaps not expect in an espresso machine that's well under $200.
The machine is not perfect, very few are, and some issues seem to appear for the odd user; although many of these tend to be due to not using the machine correctly, or not reading the manual fully for correct use. The milk container is a handy extra feature that not many machines in this range offer, however this does lead to extra cleaning requirements – there are always pros and cons to each special feature a machine offers that not many others do.
Overall this model rates well, across many independent review sites, and averages at just above 4 out of 5 stars.